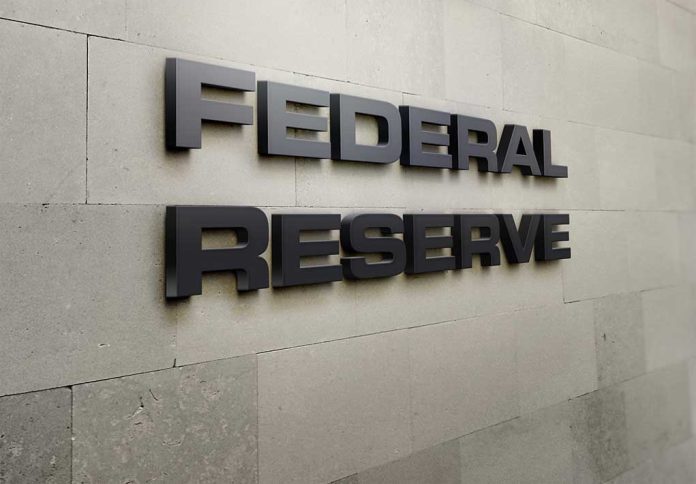 U.S. Officials SWORN IN – Biden Gets His Way!
(RepublicanPress.org) – The Senate officially swore in President Joe Biden's nominees for the Federal Reserve's Board of Governors on Monday, May 23. These new and returning members will step into their roles at a time when America continues to struggle under the weight of record-breaking inflation.
Jerome Powell began his second term as chair of the central bank's Board of Governors. Lael Brainard, who's been with the Fed since 2014, stepped into the vice-chair role, while Phillip Jefferson became an official board member on the same day.
Powell and Brainard will serve in their seats for four years. However, each will have the opportunity to remain on the board at the end of that period if they aren't re-nominated for their current roles, according to a May 23 report from The Hill.
Members of the Board of Governors of the Federal Reserve System after swearing in ceremony on May 23, 2022. Learn more: https://t.co/sFhvOKNIiU pic.twitter.com/PPMe8dIhEW

— Federal Reserve (@federalreserve) May 23, 2022
Chairman Powell first joined the Federal Reserve Board in 2012. Former President Donald Trump nominated him for the chairman role in 2017.
Lisa Cook comes from an academic background. Before joining the Fed, she served as a professor at Michigan State University. Cook also spent time on former President Barack Obama's White House Council of Economic Advisors.
Jefferson's background includes tenure as the vice-dean for Davidson College in North Carolina. He also served as an economist for the Federal Reserve Board and an advisor to Minneapolis's Federal Reserve Bank.
The Federal Reserve hoped to curb inflation when it decided to aggressively increase the benchmark interest rate by 0.5% in early May. Officials from the central bank also predicted that Americans would witness more hikes in the near future. Will Biden's nominees help or harm the ongoing fight to fix the economy?
Copyright 2022, RepublicanPress.org