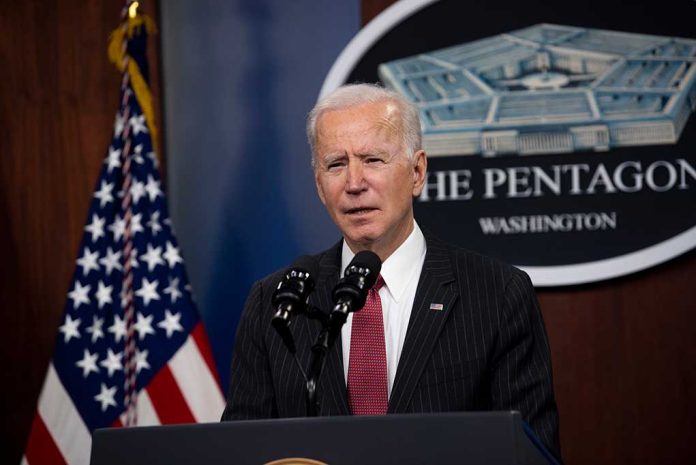 (RepublicanPress.org) – Gen. Mark Milley's four-year appointment as Chairman of the Joint Chiefs of Staff (JCS) expires in September. That means President Joe Biden is set to pick a replacement this spring, prompting questions over who he might choose.
How It Works
Ordinarily, each military branch nominates a general or admiral for the position, and the sitting president selects a replacement from that pool. Then, the Senate Armed Services Committee holds confirmation hearings. Finally, the nomination is confirmed by a majority vote held by the full Senate chamber.
Traditionally, the position rotates between the services. Six men have served as the Chairman of the Joint Chiefs in the last two decades.
One Chairman from Air Force: Gen. Richard B. Myers (2001 to 2005)
Two from the Marine Corps: Gen. Peter Pace (2005 to 2007) and Gen. Joseph Dunford (2015 to 2019)
One from the Navy: Adm. Mike Mullen (2007 to 2011)
Two from the Army: Gen. Martin Dempsey (2011 to 2015) and Gen. Mark A. Milley (2019)
The chairman serves one four-year term at the pleasure of the sitting president of the United States (POTUS). Historically, they performed a couple of two-year terms. In June 2007, former Defense Secretary Robert Gates announced his decision to advise former president George W. Bush not to renominate Gen. Pace for a second term, making him the only chief in recent history to serve only two years.
In 2017, Congress amended Title 10 US Code § 152 to modify the position to one four-year stint. A Chairman can only serve one term, except during war or in a national emergency.
Biden's Current Options
On January 17, The Wall Street Journal discussed a few potential candidates to replace Gen. Milley. These include Air Force Chief of Staff Gen. Charles "CQ" Brown, Marine Corps Commandant Gen. David Berger, and National Security Agency (NSA) Director and US Cyber Command head Gen. Paul Nakasone.
Gen. Charles Brown
As Air Force Chief of Staff, Gen. Brown is the senior officer responsible for the "training and equipping" of the nearly 700,000 active-duty, Reserve, National Guard, and civilian personnel serving the branch at home and abroad.
Gen. Brown is a distinguished command pilot with more than 3,000 flight hours. Additionally, he logged 130 combat hours flying various models of the F-16 Fighting Falcon. His awards include the Bronze Star Medal for meritorious service in a combat zone and the Legion of Merit with three oak leaf clusters.
Gen. David Berger
Gen. Berger has served as head of the Marine Corps since July 2019. As a member of the JCS, his duties at the Pentagon overlap with those of Gen. Brown.
The Marine Corps Commandant served as a battalion operations officer during Operation Desert Storm, commanded Regimental Combat Team 8 in Iraq during Operation Iraqi Freedom, and led the 1st Marine Forward Division in Afghanistan to support Operation Enduring Freedom.
Berger's awards include the Legion of Merit with a Combat V for serving in combat with valor.
Gen. Paul Nakasone
Gen. Nakasone has led the US Cyber Command and the NSA since mid-2018. He served in Iraq, Afghanistan, and Korea, and was the Director of Intelligence for the International Security Assistance Force in Afghanistan.
The general's awards include the Bronze Star Medal, Afghanistan and Iraq Campaign Medals, and the Global War on Terrorism Expeditionary Medal.
Copyright 2023, RepublicanPress.org