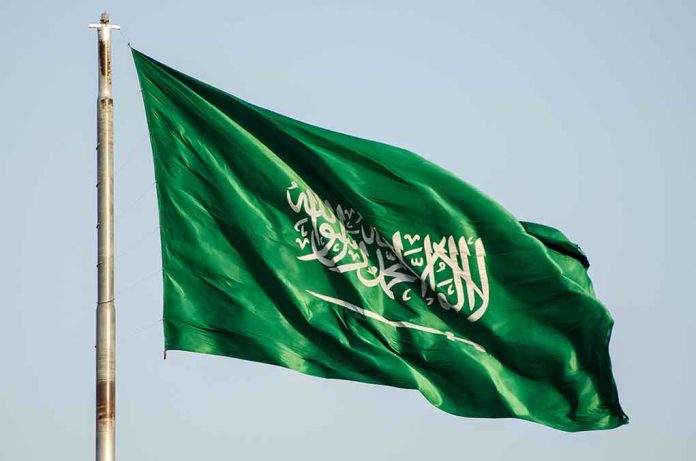 Biden Is LEAVING America on a New Mission
(RepublicanPress.org) – President Joe Biden's time in office has been shrouded in controversy. The border crisis is raging a year and a half after it began. His withdrawal from Afghanistan was a disaster. The United States is dealing with record inflation. Now, there is a storm brewing over a trip he's taking in July.
Middle East Trip
On Tuesday, June 14, White House Press Secretary Karine Jean-Pierre issued a statement announcing the president would travel to the Middle East to attend the Gulf Cooperation Council's (GCC) annual summit. She said he would also meet with his counterparts to "advance US security, economic, and diplomatic interests" and promote the nation's "iron-clad commitment to Israel's security and prosperity."
The press secretary revealed President Biden plans begin with a trip to Israel to address security concerns. Then he will take a trip to the neighboring West Bank to talk with Palestinian Authority leaders about the United States' support for a two-state solution.
Afterward, the president plans to travel to Saudi Arabia, the host nation for the GCC summit. During his visit, Biden is expected to meet with Saudi Crown Prince Mohammed bin Salman (MBS), an idea that is being met with some controversy.
Jamal Khashoggi's Shadow Looms Over Saudi Talks
On February 25, 2021, the Office of the Director of National Intelligence (ODNI) released its long-awaited assessment of the role of the Saudi Arabian government in the October 2018 murder of Washington Post columnist Jamal Ahmad Khashoggi, a Saudi dissident.
The report concluded that MBS approved the operation to "capture or kill" Khashoggi. The ODNI's inquiry also determined that members of the team responsible for the journalist's murder included seven members of his personal protective detail and other officials from MBS' inner circle.
In 2019, Biden vowed to make Saudi Arabia a global "pariah" shortly after Khashoggi's death, leading to questions regarding his decision to travel to Saudi Arabia and meet with MBS. According to CBS News, a reporter recently pressed him on the topic of Saudi Arabia, asking if he still viewed the Saudi Arabian kingdom that way. Biden said he hadn't changed his opinion regarding human rights, but it was his job as president "to bring peace" whenever he can, and that's what he intends to "try to do."
Hatice Cengiz, Khashoggi's fiancée, gave a statement to CNN last week in anticipation of the White House's announcement regarding Biden's meeting with the crown prince. She accused the president of losing his moral compass, adding that his expected meeting was "horribly upsetting" to her and "supporters of freedom and justice everywhere."
What do you think? Should Biden meet with MBS?
Copyright 2022, RepublicanPress.org