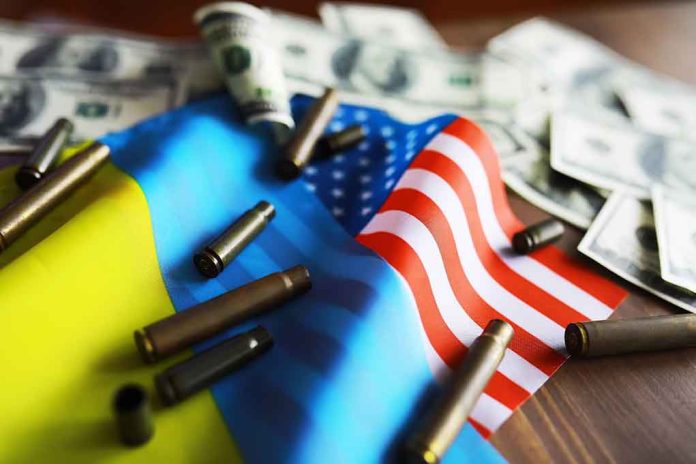 (RepublicanPress.org) – Russia launched a major military offensive in Ukraine at the direction of Russian President Vladimir Putin on February 24, 2022. Earlier that month, Chairman of the Joint Chiefs of Staff Gen. Mark Milley predicted that Kyiv would fall within 72 hours during a closed-door meeting with lawmakers. However, as the war approaches its one-year anniversary, Ukrainian troops continue pushing back against Russian aggression. President Joe Biden recently reaffirmed America's commitment to providing aid to the war-torn country in a big way.
On February 20, Biden made a surprise visit to Kyiv to stand alongside Ukrainian President Volodymyr Zelenskyy in solidarity. According to The Hill, the US leader said America would give Ukraine an additional $500 million in military aid. Biden also alluded to the possibility of adding sanctions to anyone helping Russia in the battle.
NEW: Biden announces $500 million in new military aid to Ukraine during surprise visit https://t.co/X1gmBqw22h pic.twitter.com/75RWX0x0Hk

— The Hill (@thehill) February 20, 2023
US Ambassador Bridget Brink initially welcomed Biden to Ukraine, and Zelenskyy and First Lady Olena Zelenska greeted the US president at Mariinsky Palace. The Commander in Chief wore a tie donning Ukraine's colors of blue and yellow, showing his support for the nation. Upon arrival, Biden said he was glad to be "back in Kyiv," according to The Hill.
Biden released a statement detailing his trip to Ukraine. Biden said he was traveling to the nation's capital to "reaffirm" America's "unwavering and unflagging commitment" to assisting Zelenskyy and his people in keeping their country sovereign and democratic. He committed to delivering equipment, ammunition, anti-armor systems, and air surveillance radars to Ukraine. The president spent about five hours with the Ukrainian leader before departing for Poland.
Stars and Stripes reported the United States had given over $113 billion in aid to assist Zelenskyy in defending his nation through December 2022. While in Kyiv, Biden told Zelenskyy that "freedom is priceless" and the US would back the Ukrainian leader "as long as it takes," according to reports.
Copyright 2023, RepublicanPress.org