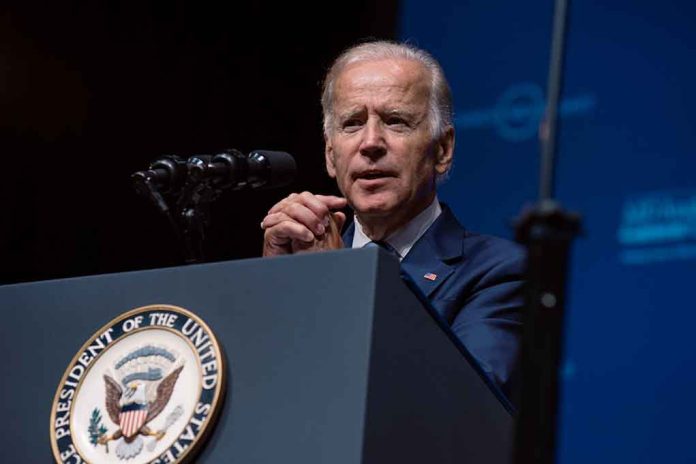 (RepublicanPress.org) – The Carter Center issued a brief statement on February 18 announcing that former President Jimmy Carter, 98, entered hospice care after a "series of short hospital stays." The notice also advised that the Carter family was asking for privacy during this difficult time. Nevertheless, President Joe Biden recently decided to speak out about Carter's health at a Democratic gala.
https://t.co/1auzIG0yqy pic.twitter.com/JJQMWgg8DW

— The Carter Center (@CarterCenter) February 18, 2023
President Biden delivered an address at the March 13 Democratic National Committee Reception at a private residence in Rancho Santa Fe, California. He briefly covered his 2020 presidential campaign and his administration's accomplishments so far.
Biden also talked about his work on Cancer Moonshot, an initiative he spearheaded as vice president and recently resurrected aimed at reducing the death rate attributable to cancer by "at least 25% of the next 25 years." He quickly segued into a short discussion regarding former President Carter, who survived a life-threatening bout of metastatic melanoma that spread to in his brain and liver in 2015.
The president said he recently spoke with Carter, adding that the former president asked him to "do his eulogy." Then, apparently remembering that was a secret, he quickly followed up, telling attendees, "Excuse me, I shouldn't say that."
In Monday remarks, President Joe Biden revealed that former President Jimmy Carter, who is in hospice care, has asked him to deliver his eulogy.

— USA TODAY Politics (@usatodayDC) March 14, 2023
Continuing, Biden said he had spent time with Carter, adding that his years-long struggle with medical issues "finally caught up with him." However, he related that Carter's medical team discovered a way to "keep him going for a lot longer" than they originally anticipated. According to Biden, they discovered a "breakthrough."
Biden concluded his remarks on cancer, telling the crowd about the importance of immunotherapy, whether it is used for brain cancer or other afflictions. He also pointed out his history of having two cranial aneurysms and a major embolism, ending with a joke about doctors taking off the top of his head for a second time because they couldn't locate one during his first operation.
Copyright 2023, RepublicanPress.org