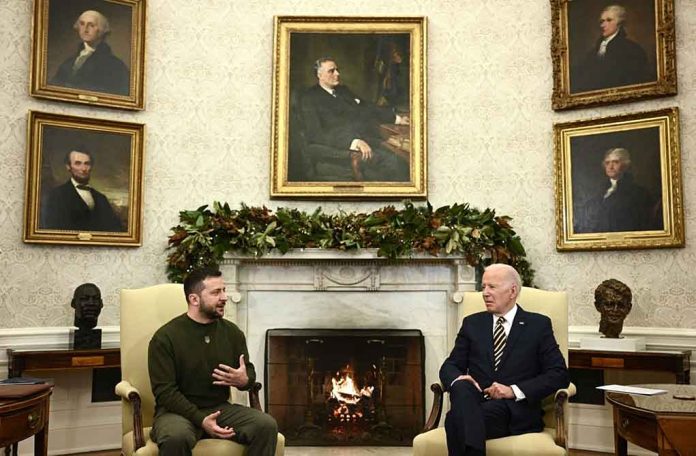 (RepublicanPress.org) – Throughout his first year in office, President Joe Biden's foreign assistance policies focused on climate change, countering rising authoritarianism, and restoring the global economy. However, in the wake of Russia's invasion of neighboring Ukraine in February 2022, the administration's focus shifted to providing financial aid to the war-torn country.
The Council on Foreign Relations recently reported that Ukraine has become the "top recipient of foreign aid." It's the first time a European nation has topped the list since former President Harry Truman directed money into the continent's reconstruction after World War II.
The German-based Kiel Institute for the World Economy is tracking the "military, financial, and humanitarian aid" promised to Ukraine by 40 nations, including the United States. According to its Ukraine Support Tracker, the US has sent the Ukrainian government military aid totaling $46.6 billion. That figure includes $23.5 billion for weapons and equipment, $18.3 billion in security assistance, and $4.7 billion in grants and loans for purchasing weapons and military equipment.
Despite that massive influx of weapons and money, Ukrainian President Volodymyr Zelenskyy hasn't received everything he's asked for from the US. However, President Biden recently left the door open to sending a long-range missile system to Ukraine.
ATACMS Long-Range Guided Missiles
President Zelenskyy has asked for MGM-140 Army Tactical Missile System (ATACMS) from the US since at least December 2022. Still, President Biden has consistently resisted the idea of providing weapons to Ukraine capable of hitting targets inside the Russian Federation.
Manufactured by American defense company Lockheed Martin, ATACMS are road-mobile, surface-to-surface ballistic missiles with a maximum effective range of about 187 miles (300 kilometers). Developed for use in the 1991 Persian Gulf War, the weapons system was designed to strike rear-echelon targets like artillery nests, supply depots, command groups, surface-to-air missile sites, and airfields.
On Monday, May 29, a reporter asked Biden if it was time to send ATACMS to Ukraine. The president responded, "That's still in play." The following day, reporters followed up with White House press secretary Karine Jean-Pierre about Biden's remarks during her daily press briefing. She confirmed the president's comment but wouldn't elaborate on his statement other than to say the administration's policy regarding long-range missiles hadn't changed.
Pressure on Biden Increases
Biden finds himself under increasing pressure to supply ATACMS to Ukraine. For instance, the US Helsinki Commission, otherwise known as the Commission on Security and Cooperation in Europe (CSCE), sent a letter to the president urging him to send the missiles to Ukraine.
The correspondence noted that the "powerful weapon system would go a long way" toward ensuring a swift Ukrainian victory. It also said ATACMS missiles would help deter future Russian aggression against Ukraine and "Europe as a whole."
Likewise, the Kyiv Independent reported that Sen. Lindsey Graham (R-SC) called for the US to supply ATACMS missiles and cluster munitions to Ukraine after a May 26 meeting with Zelenskyy. He said he would encourage the Biden administration and fellow senators to provide the weapon system.
Copyright 2023, RepublicanPress.org