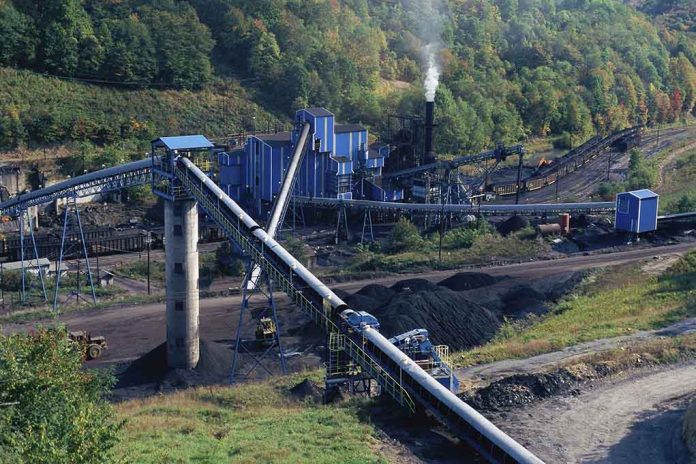 Biden Faces Backlash for Comments on Coal Industry
(RepublicanPress.org) – In June, the government released the US Energy and Employment Report (USEER) for 2021. Although it showed a net increase in energy sector jobs of 2.9%, fossil fuel jobs saw a dip of 3.1%, which translated to 29,270 positions. On the other hand, renewable energy sources like solar, wind, and hydropower saw a 21,942 job increase.
On November 4, President Joe Biden spoke at an event in California where he told a crowd running coal plants has become too expensive. He said America is headed into the "wind generation," which is cheaper. Biden then said the United States would be shutting down coal plants nationwide to make way for renewable energy.
Senator Joe Manchin (D-WV) responded to Biden's comments the next day on Twitter. The legislator called the president's words "outrageous" and "divorced from reality."
My statement on comments President Biden made about shutting down coal plants: pic.twitter.com/LEeqrGdwqm

— Senator Joe Manchin (@Sen_JoeManchin) November 5, 2022
The West Virginia lawmaker said Biden never talked to him about such a thing, accusing him of not taking job losses in the coal industry seriously. Manchin demanded an immediate apology to those affected.
Republicans also shared their fair share of criticism. Arizona 5th congressional district Representative Andy Biggs (R-AZ) claimed on Twitter that Biden is continuing to "declare a war" on coal. Meanwhile, Conservative talk show host Jesse Kelly quipped in a Twitter post that Biden is a "gift from God" for "promising to destroy the coal industry right before an election."
That same day, White House Press Secretary Karine Jean-Pierre issued a statement about the matter. She said Biden knows America was built on the backs of hardworking coal workers. The secretary then touted the president's accomplishments while working with Manchin to lower the unemployment rate in West Virginia, which now sits at a mere 4%.
Jean-Pierre also said she thinks the president's words were "twisted." She said Biden plans to keep jobs open for energy workers throughout the transition to renewable energies so that "no one" is "left behind."
Copyright 2022, RepublicanPress.org