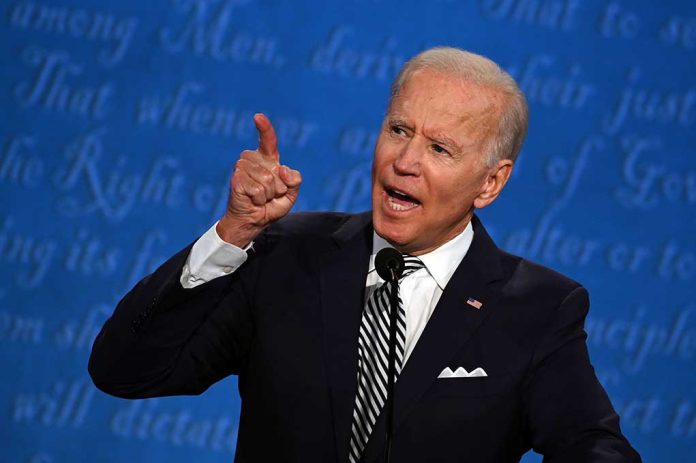 Biden CELEBRATES Inflation Reduction Law – Immediately Gets Backlash
(RepublicanPress.org) – The US has an inflation problem. Recent polling shows the American people see the economy as the most important issue to them — by far. To attack the problem, Democrats pushed the president's Inflation Reduction Act through Congress in hopes of stopping the bleeding. Unfortunately for the party's leader, a recent victory celebration over Biden's big accomplishment ended up overshadowed by continued issues — and online backlash — as new numbers hit the public.
Even CNN Gave It the Snub
On September 13, the president held an "inflation reduction" party, complete with guest star James Taylor, to pat himself on the back. Even the longtime Democrat ally CNN chimed in, cutting away from Biden during his speech to point out the plunging stocks.
Inflation came in at 8.3% this week, marking yet another steeper-than-expected hit to Biden's — and the Federal Reserve's — plan to attack the problem. The bad news also caused a nearly 1300-point drop in the Dow Jones Industrial Average as Biden applauded himself and his party for fixing America. CNN showed a short clip of the party, questioning its timing rather than joining the celebration:
CNN cuts away from Biden to highlight the "Dow taking a total beating."

"Feels like it's hard to be celebratory" pic.twitter.com/FcbqGSGVZv

— Scott Sloofman (@ScottSloofman) September 13, 2022
Network anchor Alisyn Camerota pointed out the irony of a split screen showing Biden on one side smiling about cutting inflation while the market tanks on the other. She spoke over the snippet's audio rather than allowing it to play uninterrupted, cutting away and moving on just seconds later.
Out of Touch
The president even tweeted about his major win, which was met with a critical response from Americans for Prosperity. The organization claimed that there's been a 15% increase in electricity, over 68% spike in fuel oil, and and a nearly 9% increase for meat costs, while mocking Biden for continuing to celebrate.
Electricity ⬆️ 15.8%
Meat ⬆️ 8.8%
Eggs ⬆️ 39.8%
Baby food ⬆️12.6%
Fuel oil ⬆️68.8%
Gas ⬆️ 25.6%

The President: https://t.co/DvSwAdNv2v pic.twitter.com/CWf8lk3eVX

— Americans for Prosperity (@AFPhq) September 13, 2022
Others also took to social media to criticize the President with Senator Ted Cruz (R-TX) advisor Steve Guest calling him "out of touch" on Twitter. Rep. Virginia Foxx, (R-NC) also spoke up, saying that families currently dealing with high grocery costs "aren't celebrating."
That didn't seem to bother the chief executive, who continued boasting about $7,500 subsidies for electric vehicles and overly-generous Obamacare subsidies. While claiming the plan aggressively works towards helping put food on the table, President Biden also gave a nice nod to the $400 billion in environmental spending that's intended to help make that happen.
Even with the increase in popularity in recent years, Tesla, Elon Musk's all-electric vehicle company, still only has about 3% of the auto market share. The same percentage of electricity comes from solar power.
What do you think? Do you agree with Biden's attempts to address inflation and other issues Americans are facing so far?
Copyright 2022, RepublicanPress.org