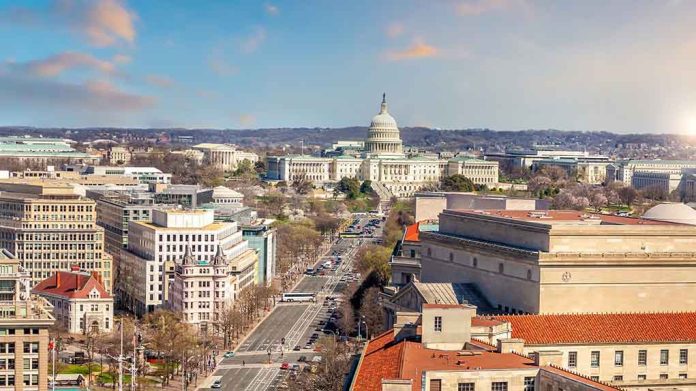 (RepublicanPress.org) – There's been a recent push in Democratic-led cities to reduce the potential penalties for certain crimes. Republican lawmakers have spoken out against the measures but lack the authority to reverse municipal actions — with one noteworthy exception. They can block laws in Washington, DC, and that's precisely what happened when President Joe Biden recently approved a Republican-led resolution.
On March 20, Biden signed H.J.26 into law, reversing the District of Columbia Council's recent passage of the municipality's Revise Criminal Code Act of 2022. The measure would have lowered the maximum punishment for certain crimes, including violent ones.
For instance, the measure would have reduced the maximum sentence for carjacking from 21 years to 18 and 40 to 24 if the defendant used a firearm. Similarly, the revised code lowered the max penalty for armed robbery from 45 to 20 years.
Republicans celebrate as Biden signs resolution to reverse DC crime bill https://t.co/mQRNDjuGK3 pic.twitter.com/csR3g0QqN4

— New York Post (@nypost) March 21, 2023
The resolution quickly worked its way through the Republican-led House. Rep. Clyde Andrew introduced the measure with the support of 19 cosponsors. By the time the bill passed the lower chamber, it had 46.
The resolution passed in the House with 31 Democrats joining all 219 Republicans who voted on the measure. One hundred and seventy-three Democratic representatives voted against the resolution. A total of 11 lawmakers — 3 Republicans and 8 Democrats didn't vote.
Inversely, the Senate passed the joint resolution by an overwhelming majority of 81 yeas to only 14 nays. A total of 31 Democrats voted for the measure, including Senate Majority Leader Chuck Schumer (D-NY), Amy Klobuchar (D-MN), and Joe Manchin (D-WV). Notably, Senators Elizabeth Warren (R-MA) and Bernie Sanders (I-VT) voted against the majority.
Perhaps sensing the rising push against the crime bill, the DC Council attempted to withdraw its new crime bill from congressional review. However, the federal Home Rule Act bars the removal of legislation. Likewise, the District's Democratic Mayor, Muriel Bowser, vetoed the council's changes to its criminal code, but the panel overrode her attempt to block the move.
Copyright 2023, RepublicanPress.org