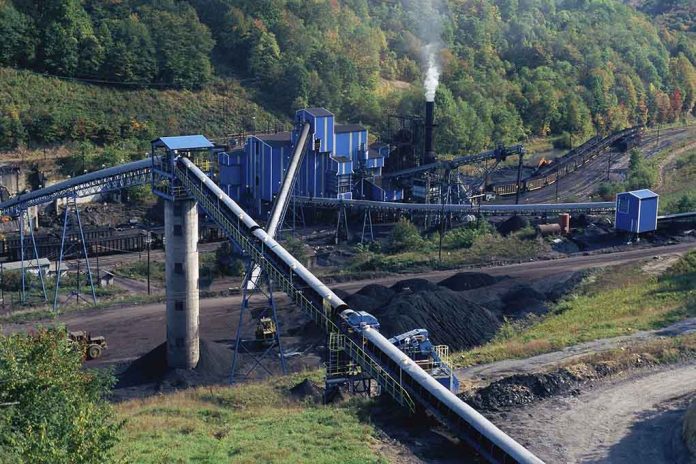 (RepublicanPress.org) – In April, reports indicated President Joe Biden's administration would soon lay out new rules to regulate greenhouse gas emissions created by power plants across the US. The measures would be the administration's last-ditch effort to limit the power sector to fight climate change. Biden has a goal that by 2030, the US will get 80% of its power from sources that emit zero greenhouse gases and be emissions-free five years later.
On May 11, the Environmental Protection Agency (EPA) released a proposal detailing new carbon pollution standards that mostly impact coal and natural gas-fired power plants. The agency predicts the regulations would lessen carbon dioxide emissions by around 617 million metric tons over the next 19 years. To bring that into perspective, the EPA said the number would equal the carbon footprint of 137 million passenger vehicles.
EPA is proposing new carbon pollution standards for fossil fuel-fired power plants to tackle the climate crisis and protect public health.

These standards would avoid 617 million tons of CO2 emissions — equivalent to reducing the annual emissions of half the cars in the U.S. pic.twitter.com/5FmthOyrdu

— U.S. EPA (@EPA) May 11, 2023
According to the statement, EPA Administrator Michael Regan said the agency is "delivering on its mission to reduce harmful pollution that threatens people's health and wellbeing." He said the proposal uses "readily available technologies" to reduce carbon pollution and work on creating a "cleaner future" for the United States — perhaps the world. The rule would reportedly be the first time the federal government made this kind of step specifically targeting power plants. ABC reported that Regan and National Climate Advisor Ali Zaidi believe the move will help the US meet its climate obligations outlined in the Paris Climate Agreement. Zaidi said each action by the EPA increases the likelihood of economic and "public health gains" for America.
However, opponents to the regulations say the industry isn't ready for such a bold move. The measure will probably face legal challenges from Republican-led states where officials believe fossil fuels are essential for the future of the United States. Senator Joe Manchin (D-WV) is among the critics of Biden's green agenda and called out the administration for its "extreme ideology."
Neither the Bipartisan Infra. Law nor the IRA gave the @EPA new authority to regulate power plant emission standards. However, I fear that this Administration's commitment to their extreme ideology overshadows their responsibility to ensure long-lasting energy & economic security

— Senator Joe Manchin (@Sen_JoeManchin) May 10, 2023
Manchin promised to block all EPA nominees moving forward.
Copyright 2023, RepublicanPress.org