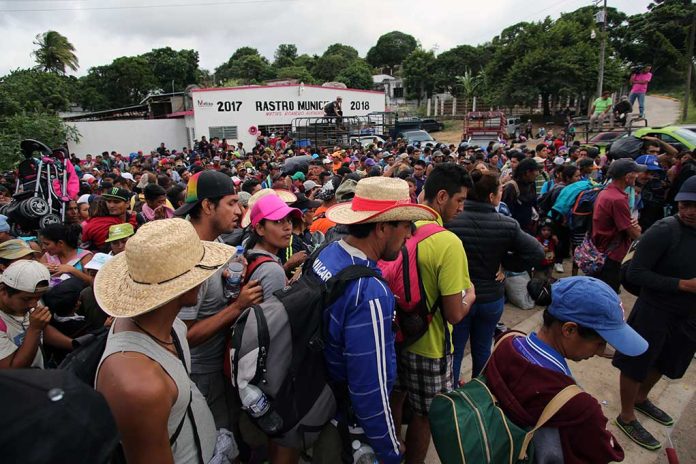 (RepublicanPress.org) – Immigration is one of the most divisive issues in the US government and has become more so since President Joe Biden took office. Many on the Right see the border as wide open, while the White House insists that's not the case. With state governors gathering migrants and busing or flying them to sanctuary areas without warning and border crossing numbers in the millions, there have been increased calls for action. Officials worry that immigration problems will worsen when Title 42 eventually ends.
On January 5, Biden revealed a plan to, at least in part, address some immigration concerns.
The President's Words and Plan
The US leader spoke from the Roosevelt Room at the White House about border security and the enforcement of immigration policy. Biden started his speech by reminding listeners about an action he took at the beginning of his term. He said he sent legislation to Congress that would not only fix the "broken immigration system," but would make legal immigration better and support DREAMers and others essential to the diversity of the US.
Biden explained people will continue to come to America for a whole host of reasons whether or not the system is fixed. For now, the process of legally coming to the US is admittedly complicated, and the president indicated wants to remedy that. While the commander in chief waits for additional funding from Congress to address immigration issues, he intends to expand an asylum program the administration has been using to process Venezuelans to include people from three other countries: Cuba, Nicaragua, and Haiti. He said those regions account for most of the people entering the country through Mexico.
The leader also said his administration will continue to use Title 42, while it's still in place, to appropriately expel some newcomers from the US. In addition, Biden promised to crack down on human and drug smuggling at the border using cutting-edge technology.
How it Works
The way the program works is that people from the stated countries who want to come to the US must have a sponsor. Then, the migrant will apply while still in their country and mustn't cross the border illegally during processing. Upon approval, they can use a specialized app to show at a port of entry, cross into the US, and begin work for two years.
If the applicant's papers are denied or if they try to enter the country before the process is complete, the US will return them to Mexico and bar them from the program entirely. Biden said Mexico agreed to accept up to 30,000 returned persons per month from that pool.
The president believes the program will smooth things at the border while still supporting the melting pot spirit of the United States.
What do you think of Biden's plan for immigration?
Copyright 2023, RepublicanPress.org