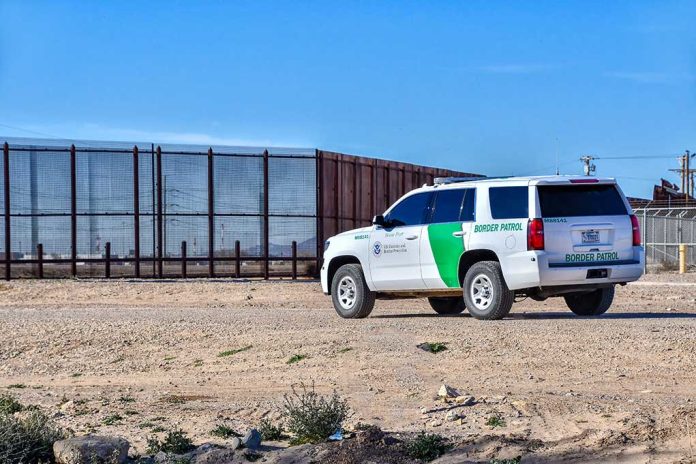 Authorities Make a DANGEROUS Discovery at the Border
(RepublicanPress.org) – Part of the US Customs and Border Protection's (CBP) job is to stop illegal drugs from making their way into the United States. On July 27, in Texas, the agency announced a group of officers at a checkpoint at the Rio Grande City Port of Entry confiscated over $2 million worth of methamphetamines just three days prior. Perhaps more shocking is that an American was allegedly driving the vehicle containing the narcotics.
On July 24, officers noticed a suspicious 2012 Dodge coming through from Mexico, so they recommended further inspection. Using a canine team and non-intrusive inspection system (NII) devices, authorities found the liquid product hidden inside the car.
According to CBS News, Port Director Andres Guerra reported the agents used their training to successfully conduct the search and seizure of the 110 pounds of meth — which is believed to be valued at about $2.1 million.
Around the same time, authorities caught another US citizen attempting to smuggle the same substance into the country through the Westbound Checkpoint in California. Although smaller, that bust still yielded just under 19 pounds of product.
On Monday, San Diego Sector Border Patrol agents arrested a U.S. citizen transporting nearly 19lbs of meth hidden in the undercarriage of his vehicle.

More details: https://t.co/oxgTlrnz9D pic.twitter.com/e7VN9EAw3F

— CBP (@CBP) July 28, 2022
According to the press release in the above tweet, CBP agents in San Diego seized over 4,600 pounds of the drug since October of last year.
Considering the growing overdose epidemic in the United States, how many methamphetamines and other illegal substances do you think are slipping through the cracks?
Copyright 2022, RepublicanPress.org