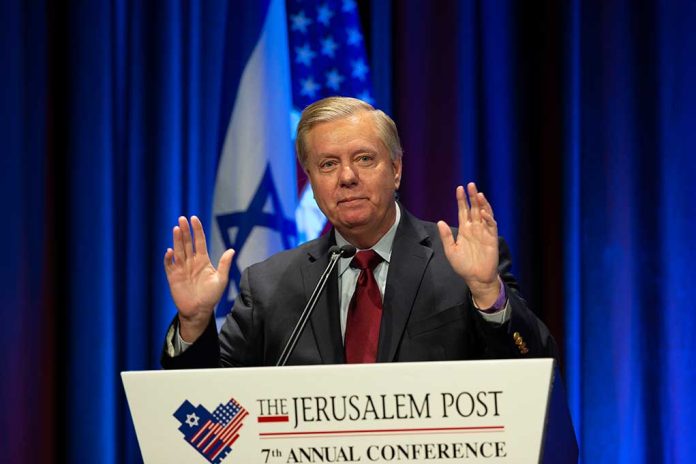 (RepublicanPress.org) – On May 26, South Carolina Senator Lindsey Graham (R) visited Ukrainian President Volodymyr Zelenskyy in Ukraine. After their pleasant interaction discussing the war and the United States' support of the sovereign nation, the foreign president's office released a clip highlighting portions of the conversation between Graham and Zelenskyy. The highly edited video seemed to show the South Carolina senator saying, "and the Russians are dying," followed by "best money we ever spent."
On May 29, TASS reported the Russian Interior Ministry placed Graham on the country's wanted list. Alexander Bastrykin, chief of the investigative committee in Russia, reported ordered legal action against the US senator for his alleged Russophobic rhetoric.
The South Carolina lawmaker reacted to the arrest warrant on Twitter, stating he would wear the measure as a "Badge of Honor." Graham said he was happy to get a rise out of "Putin's regime," affirming his commitment to supporting Ukraine. He also said he would continue to support Ukraine.
Other Moscow officials reacted strongly to Graham's words, which appeared to praise the killing of Russian soldiers. President Vladimir Putin's spokesperson Dmitry Peskov said Graham's words were a "shame." Deputy Chairman of Russia's Security Council Dmitry Medvedev's reaction was a bit stronger. He seemed to write a veiled threat, stating there's a market in the US for "killing senators."
Following the uproar from the original edited clip, several news outlets posted the unedited version showing the interaction between Zelenskyy and Graham. The two statements made by the senator were not made in succession, as they appeared in the edited clip, but were part of separate conversations. Reuters reported that Russian Foreign Ministry spokeswoman Maria Zakharova responded to the extended clip on Telegram, stating if the senator's "words were taken out of context," Graham should use his phone to make a statement clarifying his words.
Copyright 2023, RepublicanPress.org