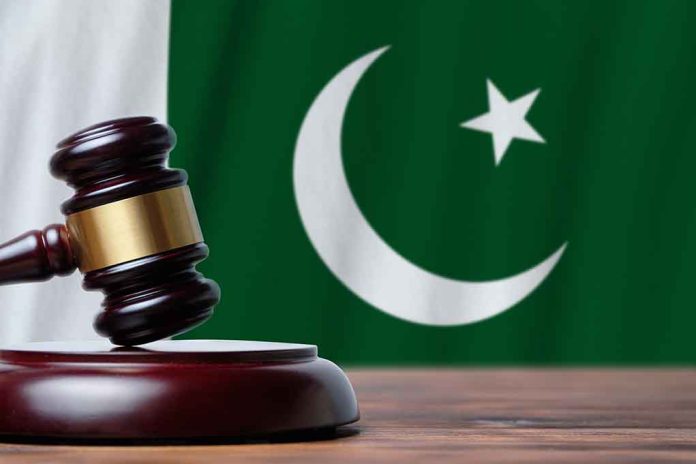 (RepublicanPress.org) – The country of Pakistan erupted in violence in the wake of the May 9 arrest of the country's former Prime Minister Imran Khan. The national parliament removed the former cricket player from office in April 2022 after he served the first four years of a five-year term.
Since his removal from office, Khan faced criminal charges in August 2022 under the nation's anti-terrorism act for allegedly detaining and torturing an aide. He survived an assassination attempt during a November 2022 campaign rally, followed by his recent arrest on corruption charges.
CBS News reported that Rana Sanaullah, Pakistan's interior minister, told local reporters the country's central anti-corruption agency, the National Accountability Bureau (NAB), ordered Khan's arrest. He said the NAB accused the former prime minister and his wife of receiving a plot of land valued at nearly $24 million from a developed arrested by British authorities on money laundering charges.
Pakistan quickly collapsed into chaos and violence once word of Khan's arrest reached the public's attention.
The Arrest of Former Pakistan Prime Minister Sparks Unrest and Violence
Khan founded the Pakistan Tehreek-e-Insaf (PTI), one of the country's three major political parties, in April 1996. The party has held the largest number of seats in Pakistan's national assembly since the 2018 general elections that accompanied his rise to prime minister. The PTI called for nationwide protests shortly after Khan's arrest.
The PTI posted a series of disturbing clips on its Twitter account showing the demonstrations. For instance, the party pinned a short video on its page, showing protestors storming 18 cities.
Another post showed a person with a raised fist extended toward the sky on a person's left side and the PTI's flag in his other hand, standing in the middle of a smoke-filled street with protesters in the background. He also appears to have donned some kind of head protection. Other clips posted by the PTI showed protesters storming military facilities and the homes of Pakistan Army leaders in Lahore and Rawalpindi.
Former Pakistani cricketer and sports commentator Shoaib Akhtar posted a short clip on his Twitter account showing scores of paramilitary troops in riot gear leading Khan and his lawyers to an ominous-looking black vehicle. He wrote that it was "heart-wrenching" to see the country's "national hero… being manhandled" in that manner. Akhtar's post received more than 1.2 million views in the first roughly 20 hours since he posted it.
CBS News reported that authorities had issued directives in several cities banning the protests in an attempt to put an end to the violent demonstrations. At least five law enforcement officers were injured in Islamabad, the nation's capital city. Additionally, at least 43 protesters were arrested as of 2:00 p.m. Eastern Time on May 10.
According to Bloomberg, Pakistan's Supreme Court ordered Khan to be freed on May 11.
Copyright 2023, RepublicanPress.org