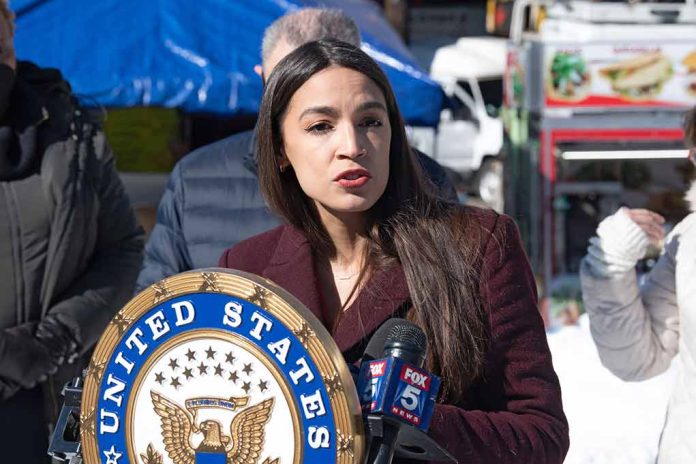 (RepublicanPress.org) – The United States Attorney's Office for the Southern District of New York announced the indictment against Sen. Robert Menendez (D-NY) and his wife Friday, September 22. Prosecutors accused the long-standing lawmaker and his wife of receiving hundreds of thousands of dollars in bribes, including gold, to benefit the Egyptian government and enrich three New Jersey businessmen, also named in the indictment. New York Democratic Rep. Alexandria Ocasio-Cortez (AOC) recently weighed in on the senator's future role in government.
On September 24, AOC sat down for a wide-ranging interview with CBS' "Face the Nation." Host Margaret Brennan asked AOC about Menendez's indictment. The host specifically mentioned his claim that he is the victim of a smear campaign because he is a first-generation Latino who rose from "humble beginnings" to become a distinguished senator.
BREAKING: @AOC calls on Sen. Bob Menendez (D-NJ) to resign following his indictment on federal bribery charges, "to maintain the integrity of the seat."

"It shouldn't matter whether it's a Republican or a Democrat. The details in this indictment are extremely serious." pic.twitter.com/QAe2H0qmJi

— Face The Nation (@FaceTheNation) September 24, 2023
AOC characterized the situation as "unfortunate" but had no qualms about stating that it was in the country's "best interest" for Menendez to resign. She pointed out the importance of consistency when addressing criminal indictments regardless of a lawmaker or politician's political party. The congresswoman explained that the counts alleged in the indictment were "extremely serious" and involved the nature of everyone's congressional seat.
Turning her attention to Menendez's statement, AOC said, "There are absolutely ways" under which "systemic bias" occurs in politics. However, she noted that the crimes alleged in the indictment were "quite clear," necessitating the senator's departure from the political arena to "maintain the integrity of [his] seat."
The progressive congresswoman ended her remarks by pointing out that, like all defendants, Menendez is presumed innocent until a jury passes judgment against him.
Menendez made his first court appearance on Wednesday. He faces one count each of conspiracy to commit extortion under the color of official right, services fraud, and bribery. He faces up to 20 years in prison on the extortion and fraud counts and a maximum of for bribery. Prosecutors charged his wife, Nadine Menendez, with the same crimes.
Copyright 2023, RepublicanPress.org