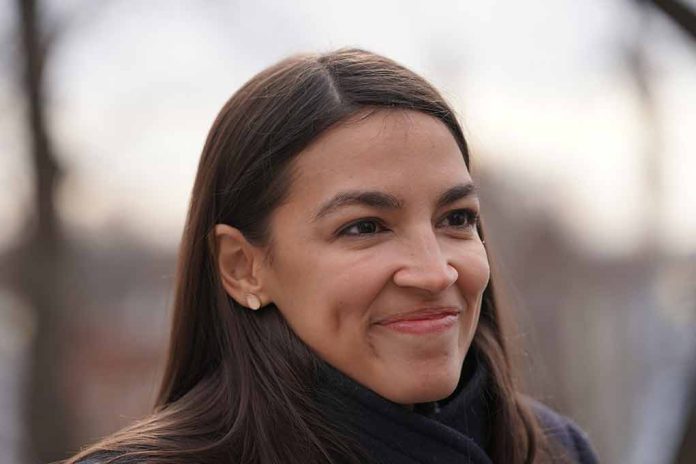 (RepublicanPress.org) – In June 2022, Representative Alexandria Ocasio-Cortez (D-NY) appeared on CNN's "State of the Union," where the host asked if she intended to endorse President Joe Biden for another four years in the White House. She refused, indicating it was too early to commit. More than a year later, the representative has decided to throw her support behind him.
On July 6, Ocasio-Cortez appeared on the "Pod Save America" podcast, where she was asked the same question about Biden. This time she said yes, but qualified her answer by indicating her support for Biden was partly because of her lack of viable choices this campaign cycle. While she said things in the White House "could have gone better," the New York representative did commend the president for some "strong" moves he's made while in office.
AOC endorses Biden but says things 'could have gone better' in certain areashttps://t.co/MJqug65sgH

— Fox News (@FoxNews) July 8, 2023
During the 2020 election, Ocasio-Cortez supported Senator Bernie Sanders (I-VT) for president, so her current support for Biden might persuade progressives who previously backed Sanders to get behind the US leader. According to The Hill, fellow progressive Representative Pramila Jayapal (D-WA) and Sanders are already supporting Biden for 2024.
Not everyone was happy about the New York lawmaker's seal of approval. The Washington Times reported that Sanders' former Press Secretary, Briahna Joy Gray, called it a "betrayal of progressive interests." It seems she wasn't happy about Sanders endorsing the president either. Likewise, liberal activist and former Green Party vice president nominee Ajamu Baraka called Ocasio-Cortez a "fraud" on Twitter for throwing her support behind Biden.
The only other candidates currently running for the Democratic primary are Marianne Williamson and Robert F. Kennedy Jr. Several polls reported by RealClearPolitics have Biden with an average 49.6-point lead over Kennedy and an even more significant gap over Williamson. The president is averaging 64% support for the nomination, followed by Kennedy with 14.4% and Williamson with only 5.7%. While it's still early in the run for the primary, Biden seems to be holding strong against his opponents — so far.
Copyright 2023, RepublicanPress.org