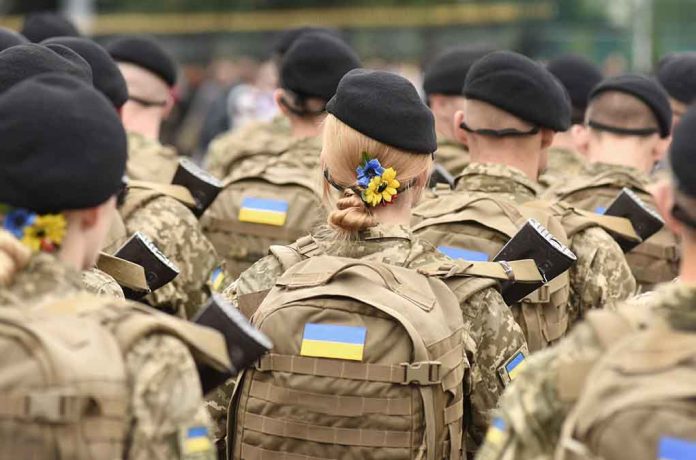 Ukraine WAR Report – Shocking Allegations Made
(RepublicanPress.org) – Amnesty International (AI) is an organization dedicated to finding, calling out, and eliminating human rights abuses worldwide. On August 3, the activist group issued a press release criticizing Ukraine's war effort and claiming it violated numerous international norms. For instance, the statement noted that Ukrainian defensive forces are setting up military installations and using weaponry in residential areas, making them a target and endangering civilian lives.
Details About the Report
AI recognized that the country has been attempting to push back on invading forces since the start of Russia's attack on February 24. But, according to the organization, that doesn't justify Ukraine's strategic use of schools and hospitals purposefully in the war. Unfortunately, the association noted a "pattern" of behavior from Ukrainian forces of "violating the laws of war" written to keep civilians out of the fray as much as possible.
The report also spoke about Russian war crimes, which allegedly include attacking areas where innocent people reside. During the months-long investigation into the matter, researchers found Ukraine was also putting those very lives in danger. Inspections and interviews revealed local forces using "civilian buildings in 19 towns" to launch defensive strikes. AI also found "satellite imagery" to back its claims.
The document detailed vivid witness accounts of flying shrapnel, destroyed dwellings, and rocket explosions in villages and towns. The organization said it was inappropriate and dangerous to set up bases in hospitals and schools, as it claims Ukraine has done. The group made it clear that their findings did not in any way condone Russian attacks in the area.
Conclusions and Response
The human rights advocates called for the Ukrainian military to either relocate their troops, equipment, and bases or completely "evacuate civilians" to keep them safe from harm. While Amnesty International admits countries can use schools or homes if there are no alternatives, the institution clearly believes there are better options. The organization submitted the findings to leaders in Ukraine but did not immediately receive a response.
Just under a week later, Ukrainian President Volodymyr Zelenskyy reacted to the document, calling it "manipulative" and a blatant attempt to blame the victim. He also stated the release of the group's bogus findings makes them partially responsible for the civilians that Amnesty International claims to care about.
Zelenskyy's Defense Minister Oleksii Reznikov also reacted strongly to the report, denouncing its attempt to "equate" Russia's illegal antics to Ukraine's manner of defense, according to a Facebook post.
What do you think? Should Ukraine be held accountable for these allegations?
Copyright 2022, RepublicanPress.org