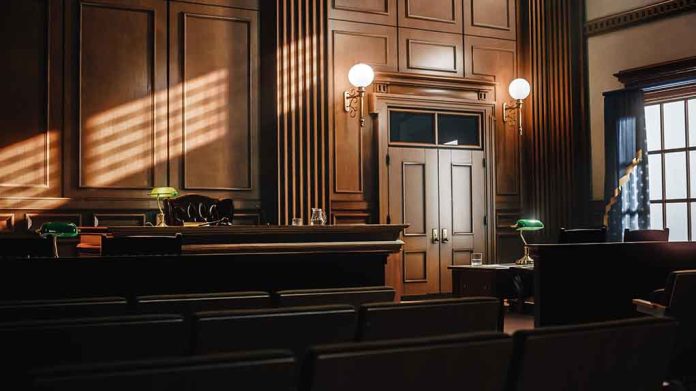 (RepublicanPress.org) – In June 2021, South Carolina Attorney Alex Murdaugh called 911 after discovering that his wife, Maggie, and his son, Paul, died at the family's hunting lodge. Colleton County Coroner Richard Harvey revealed later that the pair were murdered and died from gunshot wounds. Although casings were found at the scene, no weapon was immediately recovered.
Murdaugh claimed he wasn't home at the time of the murders, but evidence discovered later apparently pointed directly at him for their slayings. Authorities later arrested him and charged him for the murders. This past week, Murdaugh's trial began.
Alibi and the Scene
The coroner estimated the time of death to be around 9 or 9:30 p.m. — a time Mr. Murdaugh claimed to be visiting his mother. The man's alibi seemed solid at the time, but police had a second look after there was an attempt on Murdaugh's life three months later. According to The US Sun, the attorney was changing his tire on the side of the road when a man, later identified as Curtis Edward Smith, shot him in the head — he survived. The would-be killer later told police that Murdaugh hired him for the crime in an attempt to kill himself so his other son could inherit his money.
A subsequent investigation into Maggie and Paul's murder almost a year later revealed a video that his deceased son sent to a friend that allegedly putting Alex Murdaugh at the scene of the crime around the time of his family's deaths. In July 2022, authorities arrested the attorney and charged him with the double murder. At the time, a source told CNN that investigators also found blood spattered-clothing belonging to Mr. Murdaugh, indicating he could have been present when they were shot.
The Trial
During opening statements, prosecutors told what they believe to be the story of the murders of Mrs. Murdaugh and her son. According to The New York Times, the counselor claimed the defendant texted and called his wife postmortem and drove to his mom's house afterward to give himself an alibi. His mother reportedly has dementia.
Lead prosecutor Creighton Waters said the state's case would show physical and forensic evidence that proves the suspect's guilt. Although the attorneys were a little less clear about the motive, they indicated that perhaps Mr. Murdaugh's financial situation was crumbling, and his family's deaths was just the thing he would need to gain sympathy with a jury.
Defense Attorney Dick Harpootlian said the state has no forensic evidence linking his client to the crimes and no eyewitnesses either. He claimed during his opening statements that Mr. Murdaugh was a "loving husband" and was not guilty of the charges against him.
Testimony continued throughout the week. If found guilty, the defendant could spend the rest of his life behind bars.
Copyright 2023, RepublicanPress.org