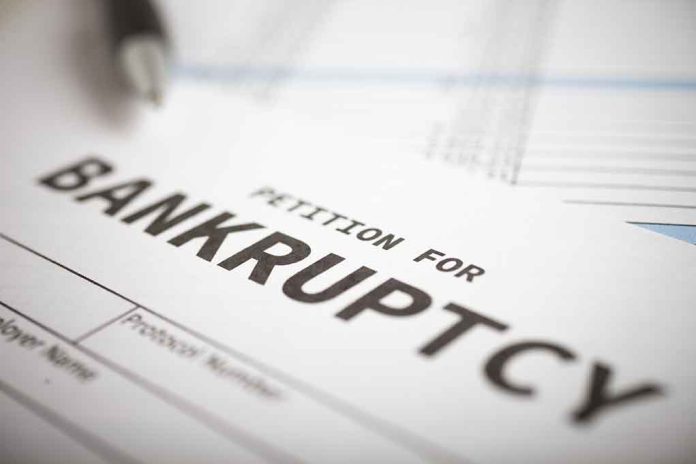 (RepublicanPress.org) – Conservative radio show host Alex Jones has placed himself at the center of controversy over the years, particularly regarding his reporting of mass shootings. He recently filed for Chapter 11 bankruptcy after suffering a series of legal setbacks surrounding his coverage of the 2012 mass shooting at Sandy Hook Elementary School.
On Friday, December 2, Jones filed for bankruptcy protection in the Southern District of Texas. News outlets reported that Jones cited the nearly $1.5 billion in damages awarded to the families of Sandy Hook shooting victims by juries in Texas and Connecticut this year.
Alex Jones has filed for bankruptcy after he and his company were ordered to pay $1.5B in damages for falsely claiming the Sandy Hook School mass shooting was a hoax. The filing said Jones owns between $1M and $10M of assets with $1B to $10B of liabilities.https://t.co/5kxxJsI0ma

— Shannon Watts (@shannonrwatts) December 2, 2022
However, Jones told a different story on his website and the Friday Infowars broadcast. Jones said he believes that the "battle to take [Infowars] off the air has nothing to do with Sandy Hook," adding that the media blew that situation out of proportion. The post on the website claims that "the establishment" is trying to shut him down by hitting him where it counts — in the pocketbook.
Jones' December 2 filing comes on the heels of another bankruptcy petition filed in April by three of his companies as part of an effort to throttle ongoing civil litigation claims regarding false statements Jones made about the Sandy Hook shooting. Then, Infowars' parent company, Free Speech Systems, filed another bankruptcy petition in late July.
Copyright 2022, RepublicanPress.org