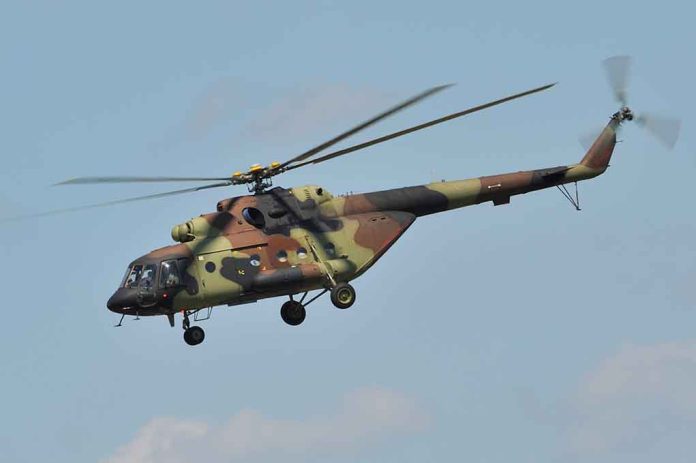 (RepublicanPress.org) – A routine training exercise recently turned deadly in Kentucky when two army helicopters went down. The UH-60 Black Hawks were flying in a multi-ship formation, and for reasons still unknown, both crashed into a nearby field. All nine soldiers aboard the choppers died, but there were no other reported injuries.
The Hill reported that military representatives have not commented on whether the vehicles collided, although witnesses have implied that there may have been some kind of impact in the air. Local resident Nick Tomaszewski, whose home is about a mile from the crash site, told the publication that he recalled seeing the helicopters flying low and unusually close to one another. The resident said helicopters are a daily fixture in the area, but they usually don't fly in close formation as these two did. He and his wife watched the choppers circle back before exploding in "what looked like a firework [display] in the sky."
#BREAKING: Casualties reported after Army helicopters crash in Kentucky https://t.co/d7Vr0GgXwj pic.twitter.com/mZ3yInXe5J

— The Hill (@thehill) March 30, 2023
Lloyd Austin, US Secretary of Defense, extended his condolences to people currently grieving over their lost loved ones. Members of the Kentucky House and the Senate also paid their respects on March 30 by offering a moment of silence. Kentucky Gov. Andy Beshear said that the state would offer whatever support it could to help affected families through this difficult time.
Black Hawks are the most commonly used helicopter in the military, according to ABC News, and they are considered reliable, although training always has its dangers. Last month, two troops died in Alabama when a Black Hawk went down during drills. This recent exercise had added dangers because the pilots were flying in the dark, using night vision goggles, over a wooded area.
Helicopters are equipped with devices similar to the black boxes found in airplanes, and an analysis of the two from the downed crafts could lead to more answers as this investigation continues.
Copyright 2023, RepublicanPress.org