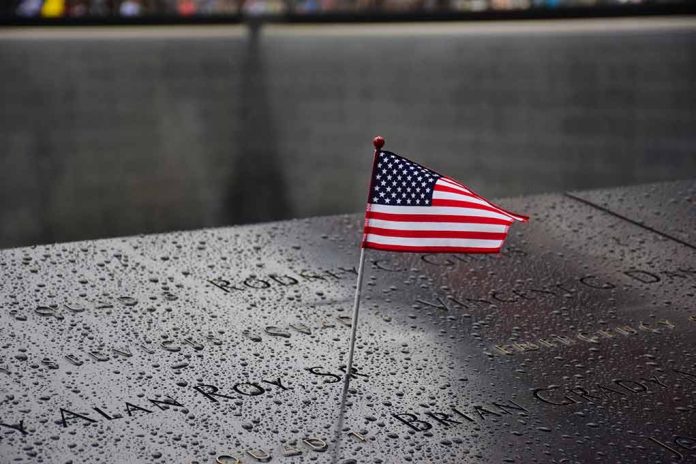 (RepublicanPress.org) – On the morning of September 11, 2001, al Qaeda terrorists hijacked four planes. They crashed two of them into each of the Twin Towers in Manhattan, one into the Pentagon, and the other one went down in Pennsylvania — their plan with that aircraft thwarted. Some of the masterminds behind the horrific attack have been sitting in Guantanamo Bay while the families of the men and women who were murdered that day await justice.
On August 23, The Associated Press reported the Pentagon informed many of those families that a deal was in the works for a handful of those prisoners. The letter, obtained by the news outlet, stated the lead prosecutor was thinking about "entering into pre-trial agreements," but no agreement has been made to date — and it may never be. However, the communication mentioned the possibility of taking the death penalty off the table. According to POLITICO, over 2,000 family members of those who died on 9/11 responded with their own letter to President Joe Biden opposing any kind of deal with the alleged terrorists.
The alleged mastermind of the 9/11 attacks and four other defendants are discussing plea bargains with Pentagon lawyers, CBS News has learned.

Families of 9/11 victims told @MacFarlaneNews a plea deal isn't justice: "I wanted to see those responsible account for the crimes." pic.twitter.com/Zib9udvlh4

— CBS Mornings (@CBSMornings) August 18, 2023
One of the prisoners in question is Khalid Sheikh Mohammed, who allegedly played a big part in orchestrating the terrorist attacks. Brett Eagleson, whose father died during 9/11, said his biggest issue with a deal is that there would be no trial. He said such an agreement would quietly happen without "public reckoning" and "American deserves a trial" — and the truth.
According to POLITICO, National Security Council spokesperson Adrienne Watson said Biden and his administration are "committed to justice" for the victims and want the terrorists held accountable. The spokesperson also said the president wants as much transparency around the process as possible. That said, the executive and judicial branches of the US government are separate. The prosecution does not consult Biden on such matters.
It's unclear if and when the families and the American public will find out whether the prosecution will indeed make a deal or set a trial date instead.
Copyright 2023, RepublicanPress.org