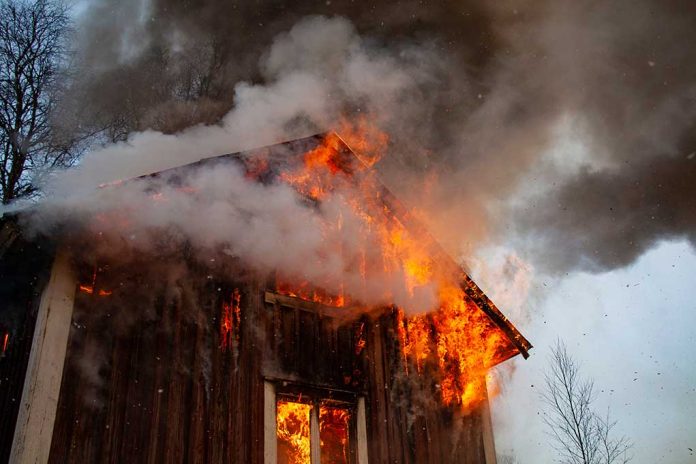 Suspect Arrested After Multiple Fires in Mississippi
(RepublicanPress.org) – In the wee hours of the morning on election day, emergency calls started coming in to report various buildings ablaze around Jackson, Mississippi. One of the affected buildings, a church, was destroyed before firefighters were able to extinguish the flames.
On November 9, local outlets reported the Hinds County Sheriff's Office arrested 23-year-old Delvin McLaurin in connection with the crimes. Other structures set on fire included two other churches, a baseball field, and a gas station. Authorities are holding McLaurin on the charge of felony malicious mischief.
Mississippi arson suspect accused of setting 7 fires, destroying church on Election Day is arrested: policehttps://t.co/IBULkELlic

— Cecilia bowie Alladin sane Parodi (@bowie_sane) November 9, 2022
Jackson Mayor Chokwe Lumumba spoke about the incident, thanking emergency services for their assistance in putting out the fires. He added that he was glad they were able to work on putting out the fires and then get back to the stations "so that people could set up for voting precincts."
The local city council held a meeting on the matter, according to the Mississippi Free Press, starting with a prayer for the multiple congregations affected by the brazen act of destruction. One of the fires at Epiphany Lutheran Church burned for over four hours before firefighters were able to get the flames under control. Sadly, the structure experienced complete devastation. There's no word on the condition of the other buildings.
Police have not yet released a motive from the suspect for his alleged misdeeds but said the FBI is questioning McLaurin at the Jackson Police Department, looking for answers.
Copyright 2022, RepublicanPress.org