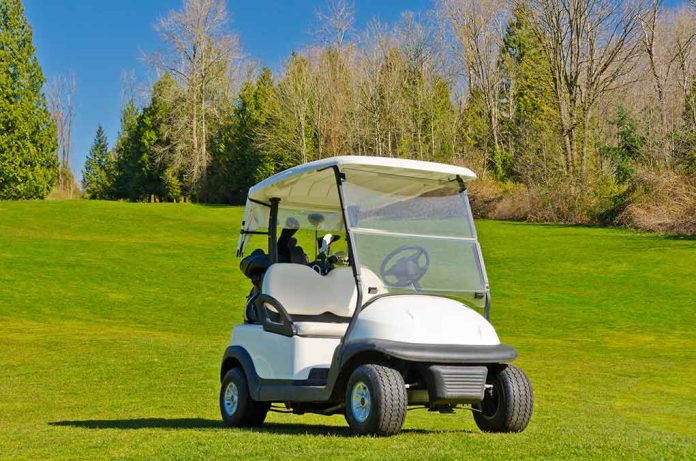 (RepublicanPress.org) – Given Florida's temperate weather and the presence of numerous country clubs and sports centers, it's not uncommon to see golf carts a-plenty in The Sunshine State. Although common, there are limitations on who can drive the vehicles. Florida Governor Ron DeSantis recently signed HB 949, which increases the age of golf cart drivers in the state to a minimum of 15 years old starting October 1. The current age is 14, but unfortunately, not everyone follows the rules.
On July 18, ABC News reported that a 3-year-old was driving a golf cart on the family property in Fort Myers, Florida, when the toddler ran over his 7-year-old brother. Florida Highway Patrol officials said the victim was taken to the hospital but died from his injuries. The toddler was apparently unharmed during the incident. There's no word on why he was behind the wheel of the vehicle or where his parents were at the time of the accident. Police are investigating the tragedy.
A 7-year-old in Fort Myers, Florida, has died after being struck by a golf cart his 3-year-old brother was driving, law enforcement officials say. https://t.co/QIj9HScKkh

— ABC News (@ABC) July 18, 2023
According to a 2021 report from the American Academy of Pediatrics (AAP), the golf cart incident is not as uncommon as one might think. The entity estimated that around 6,500 kids are injured by the vehicles every year, and most of the ones injured are under 12 years old. The study covered a 10-year span ending in 2019. The AAP said the number of injured children increased every year. Not only can kids run others over, but golf carts can also easily roll over and injure the driver — or worse.
Although reports regarding the recent Florida incident didn't detail the boy's injuries, the AAP study found that similar incidents typically affected the head and neck areas. According to the Florida Highway Safety and Motor Vehicles (FHSMV), golf carts don't require titling or registration, and people can drive them on certain roads. The FHSMV said golf carts cannot go faster than 20 miles per hour. However, that doesn't mean the vehicles don't pose a certain amount of danger.
Copyright 2023, RepublicanPress.org