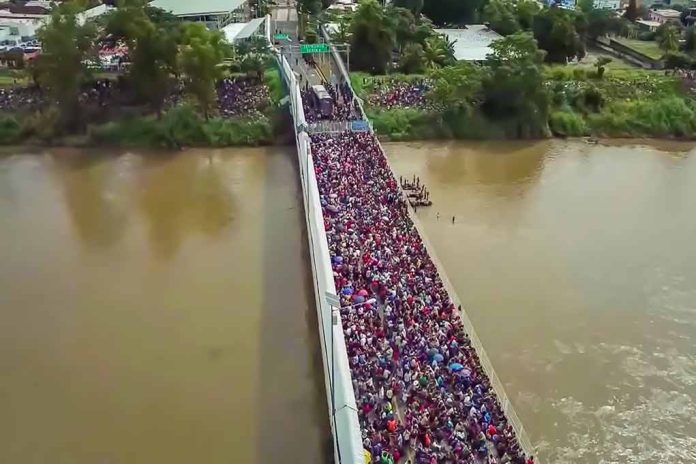 (RepublicanPress.org) – The crisis at the nation's southern border continues to alarm experts and lawmakers. Title 42 deportations enacted by former President Donald Trump expired on May 11, which many initially expected to fuel an increase in illegal immigration, although reports indicated there was a decrease in the following days. The Department of Homeland Security (DHS) Secretary Alejandro Mayorkas testified before the Senate's Homeland Security and Governmental Affairs Committee in late April to address mounting concerns by lawmakers. He stated at the time that terminating that program would significantly boost the number of border encounters but didn't provide an estimate of what the resulting surge in migrants entering the country might entail.
Senator Josh Hawley (R-MO) pressed Mayorkas on the surge of migrants. Frustrated by the secretary's lack of candor with the committee, the conservative firebrand suggested that the DHS head should be removed from office if he refused to resign.
Although these expectations have been subverted and the Department of Homeland Security has reported a decrease in illegal immigration, the Biden administration's policies continue to face criticism. A new report indicated that millions of migrants are currently living in the United States indefinitely.
Former Immigration Judge Estimated Biden Administration Admitted More Than 2 Million Migrants
On April 17, former acting Chief of the Immigration and Naturalization Service National Security Law Division and eight-year Immigration Court Judge Andrew R. Arthur issued a report detailing the number of migrants released into the US by President Joe Biden.
Arthur said that coming up with an accurate figure was complicated because immigration is probably the "least transparent 'front' of the Biden administration" due to the "president's refusal to disclose statistics on migrant releases."
As a result, Arthur said he had to rely on figures obtained from various sources like court filings from State of Texas v. Joseph R Biden, 2:21-cv-00067, (N.D. Tex.), a federal lawsuit filed in April 2021 against the president by officials in Texas and Missouri to force the DHS to reimplement the Trump administration's "remain in Mexico" program.
Crunching the numbers, Arthur estimated that the Biden administration released a minimum of 2.02 million migrants encountered by Customs and Border Patrol agents since Biden assumed office in 2021. Putting that figure into perspective, he said that figure was greater than the population of 13 states — more than the combined total of residents in Dallas, Texas, and Seattle, Washington."
Additionally, Arthur reported that more than 1.37 million migrants illegally entered the US, at least 385,000 of them so far in FY 2023. In all, Arthur says more than 3.39 million illegal migrants currently reside in the US, roughly 375,000 less than the population of Los Angeles. However, the American Immigration Council estimated the number of undocumented immigrants to be around 11 million.
Arthur concluded his report with a prediction regarding the 2.02 million migrants released. "They will likely be here indefinitely, if not forever."
According to a report from The Washington Examiner, those migrants are currently awaiting court dates, and it's reported that around 1.9 immigrants overall are currently facing removal orders. However, one expert from Migration Policy Institute, Colleen Putzel-Kavanaugh, told the outlet that it's likely authorities won't be able to keep up with those orders. As a result, there are doubts and questions about whether the migrants who are supposed to be removed will be deported any time soon.
Copyright 2023, RepublicanPress.org