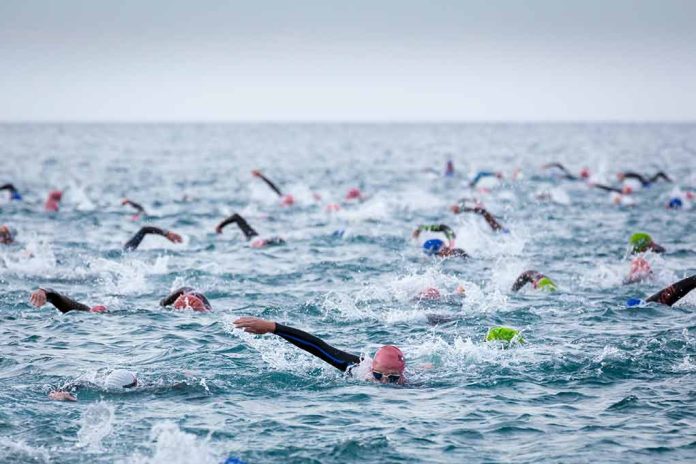 (RepublicanPress.org) – The World Triathlon Corporation hosts Ironman Triathlon races globally throughout the year. The 140.6-mile event consists of a 112-mile bike ride, a 26.2-mile run, and a 2.4-mile swim. Sadly, two participants died during this year's competition in Cork, Ireland.
On Sunday, August 20, Irish News reported that two men, Ivan Chittenden (64) and Brendan Wall (44), died in separate incidents earlier that day during the swimming section of the Ironman 70.3 Ireland in the township of Youghal, in East Cork.
Event organizers moved the triathlon event from Saturday to Sunday due to extreme weather conditions accompanying Storm Betty. They also reduced the swimming portion of the race to 1.2 miles. BBC News reported that areas surrounding the Irish Sea experienced 50 to 60 mph wind gusts beginning late Friday and carrying over into the following day.
Investigations are under way after two men died while taking part in an Ironman event in Youghal, Co Cork. Organisers had earlier advised participants of a change to the distance due to conditions at the start of the race | https://t.co/dV8SBS5Nqx pic.twitter.com/X5JO8R7c2H

— RTÉ News (@rtenews) August 20, 2023
Footage of the event posted by the Irish media agency RTÉ News showed competitors struggling with large waves as they entered the water. Local media outlets reported that several individuals questioned the decision not to cancel the swimming portion of the race.
Irish Finance Minister and member of Ireland's lower parliamentary house (Oireachtas) Michael McGrath called for an investigation into the incident. Noting that water conditions were "particularly challenging," he described the two men's death as a "terrible tragedy."
McGrath told reporters that it was important for event organizers and the proper local authorities to determine exactly what happened. He also suggested that Water Safety Ireland might get involved in the quest to "fully understand the facts and circumstances" surrounding the tragic incident.
Ironman Ireland posted a brief statement on its Facebook post expressing its deepest sympathies to the families and friends of the deceased men. It also explained that rescue workers and first responders provided immediate medical care to the competitors upon recognizing their struggles in the water.
Medical personnel pronounced both men's deaths at the scene. RTÉ News reported that authorities took the bodies to Cork University Hospital for post-mortem examinations.
Copyright 2023, RepublicanPress.org