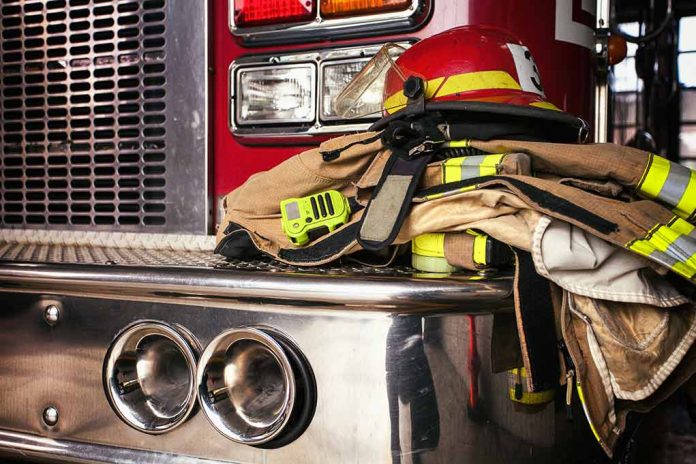 (RepublicanPress.org) – On the evening of July 5, a fire broke out on the Grande Costa D'Avorio cargo ship docked in Newark, New Jersey. The vessel had some 5,000 vehicles on board. Firefighters were dispatched to the area to control the blaze, which started on the 10th deck and spread upward to encompass two more floors. While trying to put out the flames, two of Jersey's finest lost their lives.
Fire Chief Rufus Jackson said the firefighters got trapped by the "intense heat" attempting to leave the ship. One of the men was Augusto Acabou, who had been running into burning buildings for nine years with the Newark Fire Department. Wayne Brooks Jr. was the other victim, serving 16.5 years as a firefighter in New Jersey. Five other brave first responders were injured as well.
We are saddened to announce the passing of two Newark Firefighters, Augusto Acabou and Wayne Brooks, Jr., who each died while fighting a fire at Port Newark that began July 5 and continued into July 6.

Our deepest condolences go to the families and loved ones of the fallen. pic.twitter.com/R5FVWyeNSK

— City of Newark (@CityofNewarkNJ) July 6, 2023
Jackson said his crew was not trained to fight fires on ships carrying vehicles, as the cargo complicates the job. However, the firefighters were trained to battle blazes on cruise ships and other boats that carry people — not cars. He called the event a "unique fire" for his crew.
"Good Morning America" reported that Newark Mayor Ras Baraka spoke out after the tragedy, calling the fallen "two of [Newark's] bravest." He also told the press the loss was a reminder of just how dangerous it is for firefighters to do their job. The mayor sent his condolences to everyone grieving the loss. GMA said Acabou's cousin found him on the ship and had him transported to the hospital, where he died. Officials found Brooks hours later and transported him to the hospital as well, but he didn't make it.
The other firefighters hurt in the blaze included three from Newark and two from the Elizabeth Fire Department. They were treated for burns, heat exhaustion, and smoke inhalation. The cause of the fire is still under investigation.
Copyright 2023, RepublicanPress.org