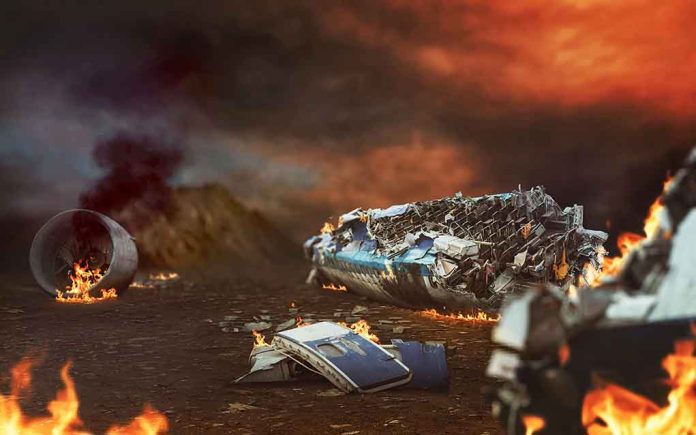 6 Suddenly Killed in Fiery Airshow Crash
(RepublicanPress.org) – The Commemorative Air Force (CAF) registered as a non-profit in 1961. Dedicated to obtaining, preserving, and showing WWII-era aircraft, the group started hosting airshows in 1976. Since then, it has suffered five crashes, four of which the National Transportation Safety Board (NTSB) attributed to pilot error. The most recent incident occurred during a show outside of Dallas, Texas.
On Saturday, November 12, a vintage four-engined Boeing B-17 Flying Fortress collided in midair with a Bell P-63 Kingcobra fighter during the CAF's Wings Over Dallas WWII Airshow. The crash resulted in the death of all five crewmembers of the B-17 and the P-63's lone occupant.
The following day, NTSB Board Member Michael Graham briefed reporters about the incident and confirmed the board would investigate the accident. He said the board would release a preliminary report in a few weeks, but the full inquiry could take more than a year to complete. "The initial review is the beginning of a long process," he stated, adding that investigators wouldn't "jump to any conclusions."
NTSB Member Michael Graham & NTSB Investigator-in-Charge Jason Aguilera walks the accident scene of the Nov. 12, mid-air collision between a Boeing B-17G and a Bell P-63F near Dallas, Texas. pic.twitter.com/v73vOdb2wC

— NTSB Newsroom (@NTSB_Newsroom) November 14, 2022
Complicating matters, neither plane had flight data, or cockpit voice recorders installed. As a result, video and photos of the collision will be critical to NTSB investigators.
One retired pilot, Chris Manno, spoke with Fox 4 News this week about this incident. He noted that every move made by a pilot during the event must have the approval of the Federal Aviation Administration. He said that they would ultimately have to answer for "what they allowed to happen and what did happen."
Copyright 2022, RepublicanPress.org