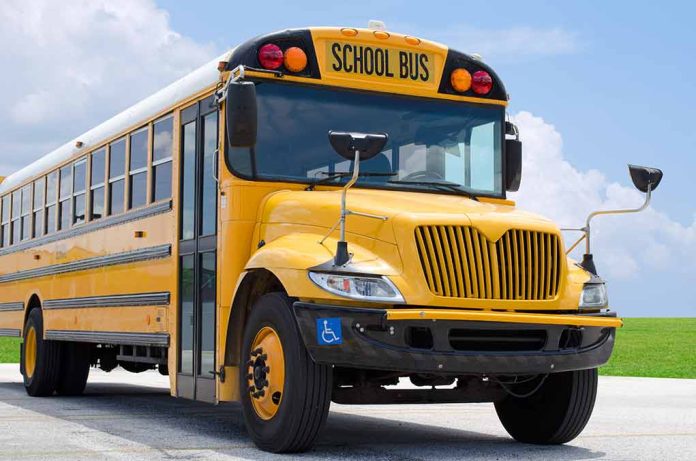 (RepublicanPress.org) – According to the latest figures from the National Safety Council, about 25 million kids across the US ride the school bus to and from classes. The National Highway Traffic Safety Administration (NHTSA) reported those children are safe 99% of the time, given that school buses are among the safest vehicles on the road. But that doesn't mean accidents don't happen, as recently seen in an incident in Ohio on the first day of school.
On August 22, the Ohio State Highway Patrol reported a fatal school bus crash in German Township, Clark County. The initial investigation showed the bus was heading westbound on Route 41 when a Honda Odyssey traveling the opposite way struck the vehicle. The collision caused the school bus to overturn, and one child died at the scene. The bus driver had only minor injuries, but 22 kids were treated at a local hospital. Emergency services took one child to the Children's Hospital for life-threatening injuries.
Two people were in the minivan — the driver, Hermanio Joseph, and his passenger, Roberto Mompremier. Both of the men went to a local hospital for treatment, but their injuries were non-life-threatening. There was no word on whether authorities plan to bring charges against either driver, as the collision is still under investigation.
Soon after the crash, Northwestern Local School officials assured parents they would receive notification about their children and set up a reunification center for pickup. The community was heartbroken over the news. Ohio Governor Mike DeWine took to social media to offer his condolences to the grieving family and prayers for all those affected by the accident.
School buses in Ohio do not have seatbelts. That said, it's unclear whether having the devices would have saved the child in this case. NHTSA explained that buses have a unique retraining system—compartmentalization—making seatbelts unnecessary. The design involves seats that are close together with energy-absorbing backs.
Copyright 2023, RepublicanPress.org